Travel Q & A with Anthea Petersen
Why Antarctica?
My dream has always been to travel to Antarctica on an ice breaker. The vastness of the continent fascinates me. Having read numerous books on exploration to the South Pole, this continent had strong appeal. Although we crossed the Antarctic Circle, we were nowhere near the South Pole. Certainly, we did it in style when compared to Shackleton, the famed National Geographic Explorer who was the first to start these journeys.
Our ship has a capacity of 146 passengers excluding crew and is one of the smaller ice breakers that can go far down along the peninsula. However, it is an expensive trip. Depending on your cabin, the price ranges from $20,000 to $24,000. It therefore attracts a higher income client.
As National Geographic is an American organisation most of the passengers were from that country with ages varying between 30 and 70. You must submit to a full medical when you book, and it is advised that you be in good shape. This is because you will be doing quite a bit of hopping on and off the inflatable boats and the peninsula is quite pebbly.
My understanding of these trips is that there are a lot of educational talks, elaborate a bit on these.
The talks were incredible. We had three naturalists on board with talks ranging from 'Birds of the Drake's Passage', 'Whales of the Southern Ocean', 'Seals of the Southern Ocean', and 'Exploration within the Southern Continental ice shelf'.
We also had a historian with topics included 'Working for the British Antarctic Survey' and 'Shackleton's Imperial Transantarctic Expedition'. There was a National Geographic photographer who provided lectures on 'Wildlife and Landscape photography' and 'How to capture the vastness of Antarctica'.
Our guest speaker was a Glaciologist. He was fascinating as he does ongoing research in the region mainly analysing glacier melt and movement. Most of these presentations happened over the first few days and last two days spent at sea.
We spent two days crossing Drake's Passage with just the sea and sky and some birds flying by. There was a lot of downtime so the great presentations in the lounge were welcome.
We also had two research teams onboard – whale scientists and divers. They presented their findings to us a few times. The whale team collected DNA from the whales via drones to analyse their movements across cold and warm waters, their breeding habits, and so on. The divers were looking at all the invertebrate and Krill that live in these cold waters.
What was your best experience?
There were so many. We saw so much wildlife especially penguins in their natural habitat. We saw Adele/Gentoo and Chinstrap. You can watch them for hours as they waddle back and forth to sea. We also saw four species of whale – Orca, Sie, Humpback, and Minke. And then there were the Crabeater/Elephant and Leopard seals.
Seeing the icebergs and their different shapes and sizes were incredible. We also managed to go on two incredible kayak trips thanks to the fabulous weather. And then there was the walk up a glacier and sliding down on a snow slide.
Any bad experiences?
Not bad as such, but you must prepare yourself to spend two and a half days at sea to get there and back. You board the ship on Tuesday evening and do not step onto the continent until Friday morning. And then you only have five days there although you spent 10 days on the boat.
We went too far south to see any Emperor/King or Rockhopper penguins. These are found more around the Shetland and Falkland Islands.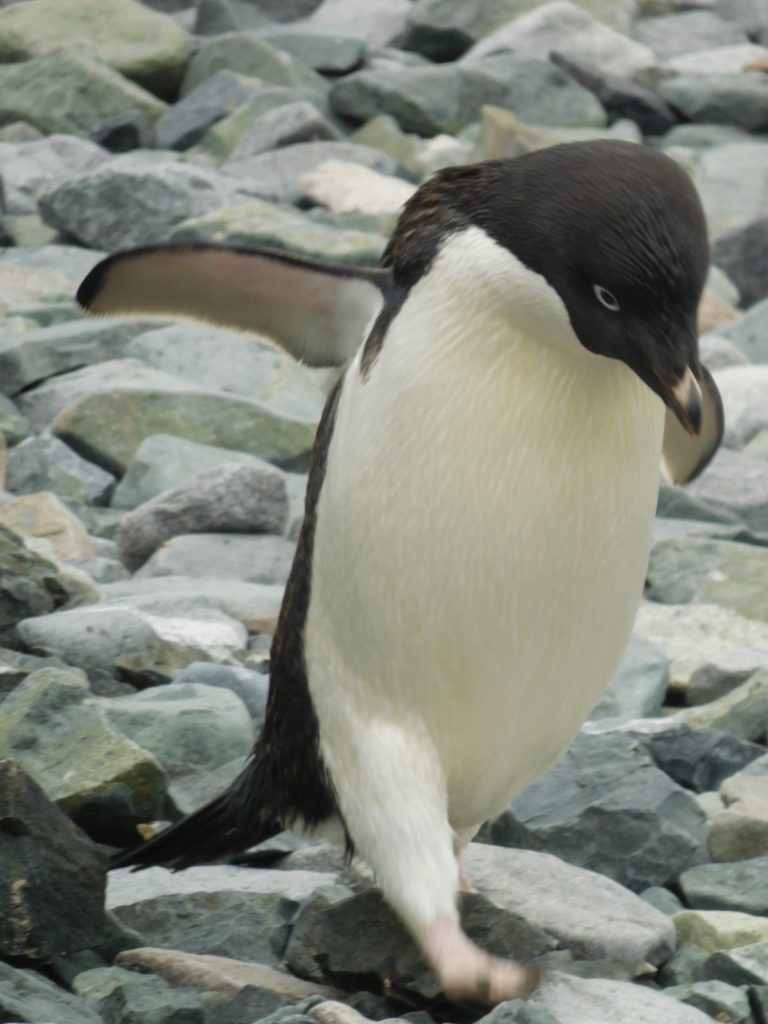 Were the people friendly?
Not only were our fellow travellers very friendly, but the staff were incredible.
There are three divisions: Ship (captain and all his crew); Hotel (which are mainly Filipino staff that serve delicious meals, clean rooms, and so on, and the chef and all the kitchen staff); Exploration staff (this consisted of the naturalist, an expedition leader who is responsible for your daily trips and activities, and an operational person who does all the logistics).
Whenever you 'land' or do an activity around the peninsula, you are called in groups to the mud room in the base of the ship. This is where you must kit up. They provide you with a jacket (inner and outer) and you hire waterproofs to put over your trousers. You also receive boots that go up to your knees and your lifejacket. Finally, you step into an antiseptic liquid and then board the inflatable boats (the famous Zodiacs). When you return, you repeat the process and might even have to scrub the boots especially if you went to a penguin colony.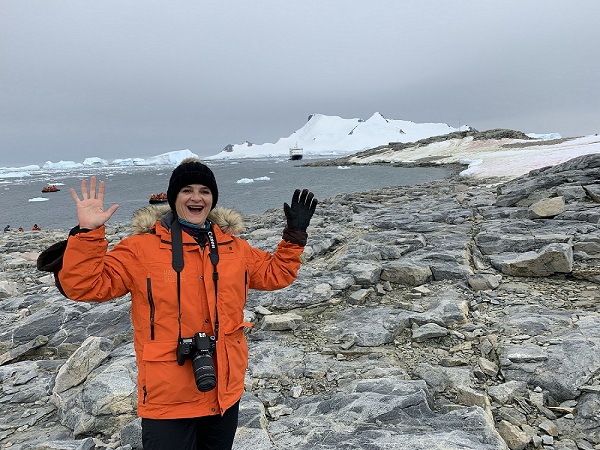 How did you get around when you were off the boat?
We made many trips around the icebergs and glaciers using Zodiacs. They also took us ashore where we walked a lot, sometimes up steep inclines to go to specific wildlife areas. We were also fortunate to have taken two kayak trips.
What was the most interesting thing you learnt?
That orcas (killer whales) are matriarchal. When the female dies and there is not another one to replace her, the male will also die. But there were so many things. We basically learnt at least 10 new things daily.
Any scary moments?
No, even though I wish we had at least one. Some of the people got seasick through Drake's Passage but the captain told us this was standard. I hoped to experience a bigger swell to make the crossing more exciting.
Did you see any of the effects of global warming?
No. The northern hemisphere is far more affected with the melting of the icebergs. Although we did have warm weather with the coldest day being fifteen degrees below zero. However, we were there in mid-summer and had fabulous weather the entire time. Of course, this will vary from trip to trip.
Would you recommend it as a destination?
Yes. If you love photography, this is a dream trip with magical scenery that is something you must behold for yourself. Visiting a place where there are no humans or buildings is incredibly special as you witness pure, unspoilt beauty.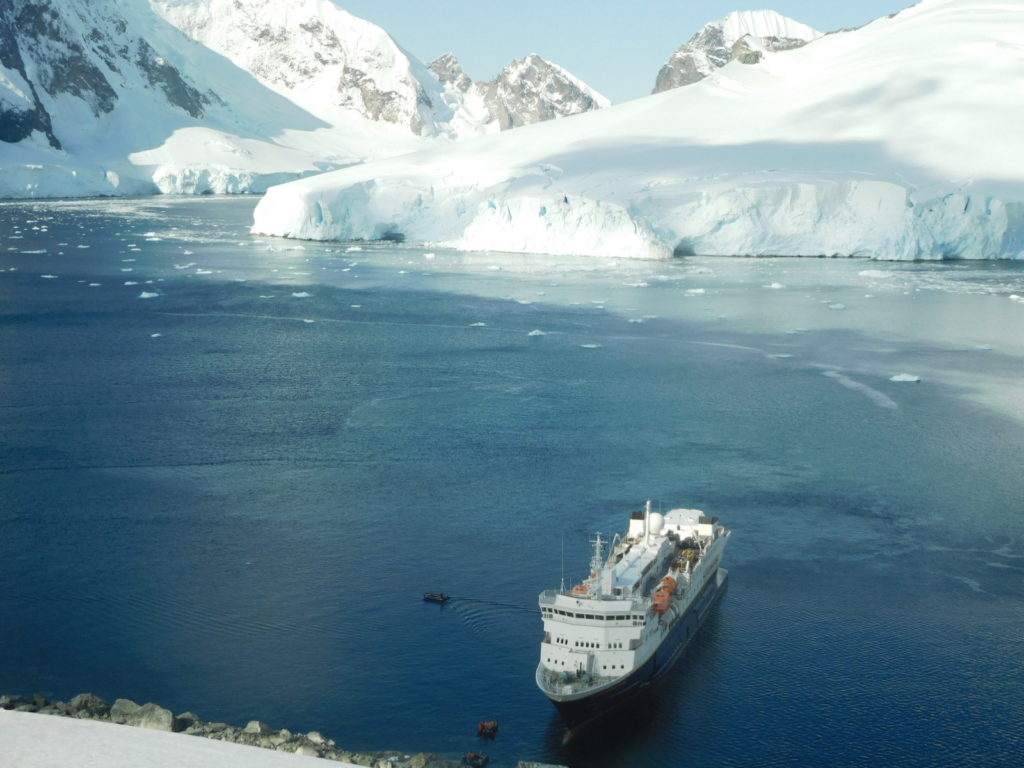 Top travel tips for others considering this trip.
Book early. We booked two years ago and had the pick of the ship. I was able to choose a cabin on the top deck as I wanted a large window. This was fabulous as the portholes on the lower decks can be quite horrid. Going as a group of four could be a lot of fun as there is plenty of downtime so traveling on your own could get lonely.
Communication on the boat is incredibly limited so prepare to be disconnected. These trips are only available between November and end February. We went at the end of January with the weather being perfect.
I understand that you flew to Antarctica via Buenos Aires. How long did you have in Buenos Aires?
We flew direct from Johannesburg to Sao Paulo and then had a flight to Buenos Aires. As part of the trip, we spent a full day and night there and did a walking tour and drove around a bit. However, the main part of the trip was to come, and I was itching to get on the ship. We chartered a boat to Ushuaia where we met up with the ice breaker.
In Buenos Aires what was your favourite meal and how much was it?
We only had two meals. And being in Argentina, there had to be steak involved which we had in our amazing hotel. The one was a meal for three that included starters, steak as the main course, and a pudding shared. We also had two bottles of wine and a few whiskeys with the bill coming to around $120, which is close to what we would have paid in South Africa.
How much was a cup of coffee?
At R30, it is like South African depending on where we went.
Were the people friendly?
While the people are incredibly friendly, their laidback nature means service is slow.
Did you buy anything amazing? What was it and how much?
Unfortunately, we did not have time to do any shopping.
Were people happy with their economy, and their government?
There is a lot of unhappiness with homelessness being a problem. We saw entire families living on the streets.