Travel Q & A with Carey Else
What a roller-coaster ride the United Kingdom is currently on. But what is it like living there at the moment? My friend Carey Else has moved from South Africa to live in the UK, and gives us some interesting insights.
Why the UK?
We chose the UK for a number of reasons. My mother's family was British, and our family tree is recorded back to 1280 in Scotland and England – so we grew up with a strong sense of our ancestry and our point of reference growing up was English culture and tradition. Over the past 45 years, I have travelled extensively around the UK with my mum and have always shared her love of the English countryside. In terms of employment, the UK does not have any age restrictions on work skills, which makes it an attractive destination for older people who seek offshore experience. The UK market also provides extensive opportunity for Darryl's electronics business, which services, repairs and calibrates medical, scientific and specialized laboratory equipment.
Are you living in London or outside of London?
We live in the countryside, west of London, with easy access to London via the M4 (1.5hrs) and to Oxford via the M40/A40 (45mins). Darryl travels around the country as the customer base is widespread. He has a service team of four engineers, each largely servicing their own specific areas. His office will be moving from Crawley to Aldermaston in April next year, which will be far better positioned for the bulk of the client base. He drives to London about once a week. Commuting per train is not really the best option for him, although it only takes about an hour into Paddington from Maidenhead, which is 3 miles from our home. Parking at the Maidenhead station is limited and expensive and Darryl often has equipment with him that would be impractical to carry on and off trains.
How does Darryl find working in London?
Driving in Central London is not for the faint hearted, given the traffic, very low speed limits, the restrictions of bus lanes, and the impact of errant pedestrians, cyclists and motor bikers. You have to keep your wits about you! 😉 Parking is also very limited and expensive. He has mastered it though and I sometimes also drive in the quieter areas of London. However, his customer base in London is great, highly educated, professional and very polite and some of the laboratory sites are situated in beautiful historical buildings.
What do you like most about living in the UK?
We love living in the countryside and waking to deer, foxes and pheasants in the green space that is our view. We are never lost for activities to fill our weekends. These include walking in the forests and along the rivers, exploring little villages, picnicking, visiting the traditional local pubs and the beautiful National Trust properties and gardens. We enjoy the fact that the government is committed to the preservation of the natural and historical beauty that the country offers and that the citizens seem to appreciate the open spaces and natural resources, with consideration for fellow visitors, by not littering and by generally obeying the signposted rules. It is a treat to feel safe enjoying so many outdoor activities and open spaces.
We are very fortunate to have easy access to London and Oxford for so many wonderful cultural activities. There are also so many different villages and cities within easy reach, each with their own sites of historical and cultural interest, so there is always somewhere new to explore.
The UK is so well situated for travel, both to Europe and to the USA and Canada. Darryl and I love to travel and once our visa-determined travel time restrictions ease, we intend to take full advantage of that.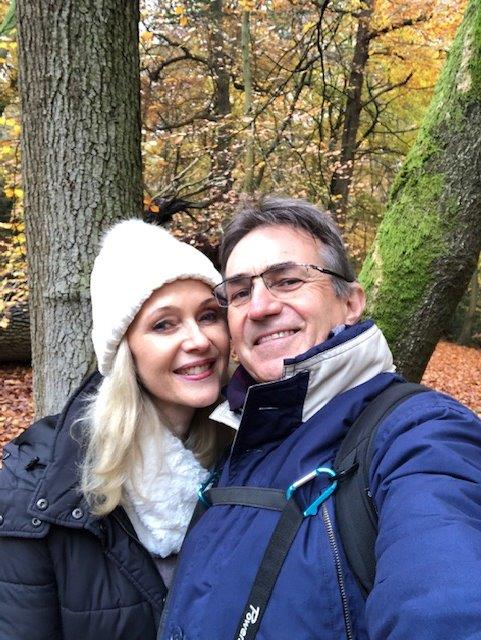 What do you like least about living in the UK?
Although we have made a number of lovely friends here, we miss our families and our long-established friendships in South Africa. Much as we make extensive use of digital communication and social media, it is not the same as the everyday interaction with family and the frequent and impromptu get-togethers with friends.
Do you find it expensive living in the UK? (a cup of coffee / grocery shop / transport / etc.) What you find expensive or cheap compared to SA?
Shopping for groceries is on a par with South Africa and we spend about the same at Waitrose as we would at Woolworths. Sainsbury and Tesco are marginally cheaper, and I believe that Aldi and Lidl are much cheaper. Certain items are much more expensive, for example, biltong at £39 per kilo. I am a coffee aficionado, so finding the perfect blend has been my mission in a country that traditionally drinks tea by the gallon! However, the coffee culture has certainly caught on here and we are more than lucky to have expert baristas a mere mile walk from our home, at Velo Life. This friendly coffee shop, popular with cyclists, ramblers and dog walkers, serves a kicker of a blend for the many cyclists who gather to challenge the Henley hill, as well as offering them bike repairs! My favourite tazza is a double espresso, with hot frothy milk on the side, (somewhere between a double macchiato and a double espresso – just to challenge the barista! 😉) at £2.20, whereas at home I would pay R27.50 at Seattle. Petrol retails at anywhere around £1.30 per litre and of course, you have to pump your own!
Do most people own their own homes in the UK? Are rentals expensive? How easy is it to get a bond?
We live in a very expensive area, given the easy access to London, both by rail and motor vehicle.
The community we encounter around Henley-on-Thames generally have their own homes. The average 3-4 bed house in the country where we live would go for about £1.5million and upwards from there if it came with land. A Victorian terrace house in Henley goes for about £5-600,000. A new development in the village centre is offering 2 bed apartments from £695,000.
The rental market is active though and most young people rent to start out. There is a help to buy scheme for first time buyers, which new developments are obliged to offer. Rentals in our area for a 2-bed range from about £1,100-1,400 per month, depending on the property.
With the usual checks in place, bonds are accessible, particularly if your credit score is sound. For immigrants, it is important to set up a two-year credit worthy record and to have secure employment.
You and Darryl recently had some cause to deal with the NHS in the UK. What was this experience like?
Our experience of the NHS has been exceptional for a number of reasons. Firstly, we have a great surgery for which we are zoned and where we are registered. An appointment with a doctor can normally be secured same day if we call before 8:00am. We can also book appointments and order prescription medication on-line. Any anomalies picked up in your standard registration health check is escalated to specialists and in Darryl's recent case, early detection, resulted in effective treatment and an all clear result. We were very impressed with the hospital for which we are zoned. The journey that we followed from Darryl's diagnosis, through surgery and subsequent follow up was extremely well co-ordinated and very supportive. Royal Berkshire hospital is apparently one of the most highly rated hospitals in the world for the robotic surgery Darryl required. He was assessed by a team of specialists and fully informed about the treatment options and his hospital stay was on a par with the best private care on offer in South Africa. We receive prompt invitations to attend regular health checks and to have all the usual preventative diagnostic tests, e.g. mammograms. However, there is a lot of negative coverage on TV, regarding long waits and inadequate resources in other areas and of course the NHS is a hot button in the election campaign.
Any bad experiences?
No
What are your favourite meals and how much are they?
Eating out is expensive. Darryl enjoys his Sunday roast with all the trimmings. This would be about £15.00 in a gastro pub. He does miss his juicy steaks, which at about £25.00 are prohibitive! My choice would be chicken or halloumi salad at about £12.00, or poached salmon and greens at the same price.
Are the people friendly?
Extremely so! Whether you are chatting to a shop assistant, a teller, a barman, a government official or people you encounter out on a walk, everyone is helpful, polite and happy to assist.
You are living in the UK at an interesting time vis-a-vis Brexit. What is your perception of how this is playing out amongst the people you mix with?
People we encounter are keen that Brexit should be done as quickly as possible. The on-going uncertainty is really the paralysis factor and business has seen significant negative impact in the wake of the Brexit dilly-dally! The general sentiment in our area seems to be an urgency to get Brexit done, so that business can address the implications of the new scenario and move forward. However, if one follows the news, there are many real concerns to be addressed in terms of trade deals and the free movement of labour.
Now of course, we have the upcoming election to add heat to the debate. Politicians all have very definite opinions one way or another, ranging from Remainers to the Brexit party. The lead up to the election is proving just as vibrant and eventful as within our South African context, however there are some unexpected, and from our perspective, rather quaint customs.
You don't have to produce an identity card to vote and you can vote by post!! Coming from South Africa, we remain in awe!! Clearly voter fraud and rigged elections are not an issue here! Interestingly enough, although we are not British citizens, as citizens of a commonwealth country on a British resident permit, we qualify to vote and have registered to do so.
How do people feel about the economy?
Most people we have spoken to believe in the strength of the British economy and feel that it will rally once the initial "hiccups" of Brexit are dealt with. This may be something to do with British stoicism and resilience! After all they have survived and been victorious through two World Wars and they believe in themselves and their ability to rise above challenging circumstances. However, this is a view held by a certain sector of the population, that we have met – Tory voters I would guess. The extensive BBC coverage of Brexit indicates the wide-ranging views on the subject and many businesses, which depend on the free flow of goods through the European Union and foreign labour, are set to be significantly impacted in the short term. Over time, no doubt, new mutually beneficial deals will be concluded.
How do you get around mostly?
As we live in the countryside, we drive everywhere. We love driving along the country lanes, as the countryside is so beautiful through all the different seasons. At the moment, the autumnal displays are magnificent! In London, I mainly use the underground and walk, whilst Darryl parks close to customers in one of the parking garages and then walks.
What are the most interesting things you are learning?
Everything about moving to a new country is a huge learning curve, from the way the "system" works on every level, to exploring the history, culture and landscapes. Travel expands your frame of reference in every aspect and it is an amazing opportunity to live in another country and really adapt to a new way of life. However similar life in another country may appear on the surface, each region has its own unique and fascinating personality.
Any scary moments?
Navigating busy traffic circles, while Google Maps tries to catch up with my current location can prove a little hairy! 😉