A Perspective on Rand Weakness Against the USD
With the rand breaching R13/USD for the first time in 14 years, it is timely to look at how major currencies have fared against the dollar over the period 25 July, 2014 – 14 August, 2015 and the analysis is interesting.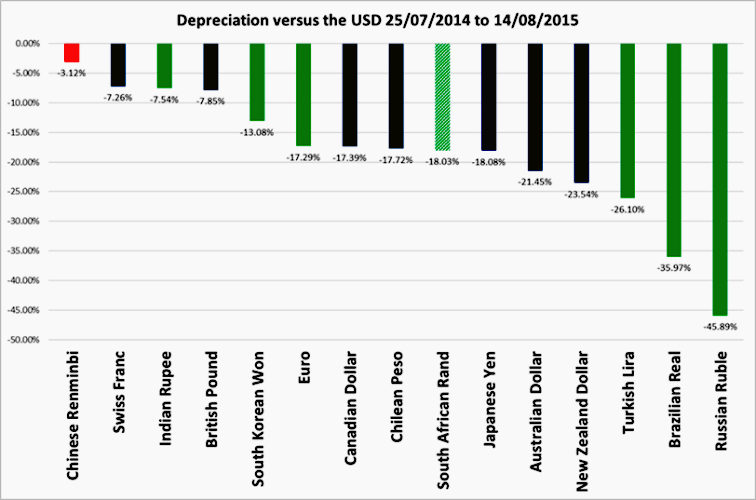 The above graph (click on graph for greater clarity) shows that:
Nearly all major currencies have weakened against the USD, with emerging and commodity currencies * being particularly hard hit.
Developed commodity currencies, e.g. Australian, New Zealand and Canadian Dollars have performed worse than the rand over this period.
The rand has performed in line with major currencies such as the Japanese Yen and Euro.
The British pound has been one of the better performing currencies against the USD.
The Chinese Renminbi, even after the recent devaluation, remains a top-performing currency against the USD in contrast to other emerging markets**.
Of the BRICS (Brazil, Russia, India, China, South Africa), South Africa has fared better than both Brazil and Russia.
*  Commodity currencies is a name given to currencies of countries which depend heavily on the export of certain raw materials.
** SA is considered to be an emerging market along with, for example, Brazil, Russia, China, India.
Source:  Brandon Zietsman, CEO, PortfolioMetrix