The Short View: Current Market Volatility with Specific Reference to China
A major reason for concern currently amongst investors is the Chinese stock market which entered a steep decent after rising by more than 150% (see graph below):
Reason: For an explanation of why China's stock markets went into free fall click here to see our post 'The Short View: Why China's Stock Markets Went into Free Fall'
Why are other financial markets being negatively affected?
China is the world's second largest economy. If there are concerns about a Chinese recovery the global financial markets will react negatively.
The drop in the Chinese stock market comes at a time when the US Federal Reserve is looking to raise interest rates, which will drive money away from emerging markets such as SA's.
The graph below shows the FTSE/JSE All Share Index over the last year.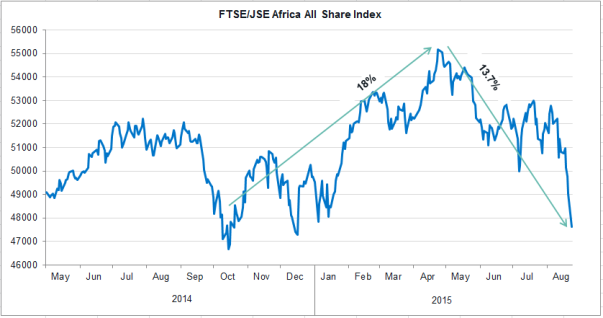 Source:  Sanlam – SMMI