Returning to the Basics of Savvy Investing
With so much negativity in the news of late, coupled with an election year, investors have understandably been jittery. A cautious investment environment – with many unsure of the best strategy to pursue, has reflected this sentiment. With this in mind, now is a good time to revisit the basics of smart, long term investing.
Notably, the JSE is back over 57 000 and recorded the best first-quarter performance since 2007 in the three months to end March 2019. That said, 2018 was a particularly difficult year for investors, especially those in equities and listed property. This is evident when comparing the asset class returns in 2017 to those of 2018 – whereby SA equity and SA property went from the top of the performance rankings to being the two worst performing asset classes (see below).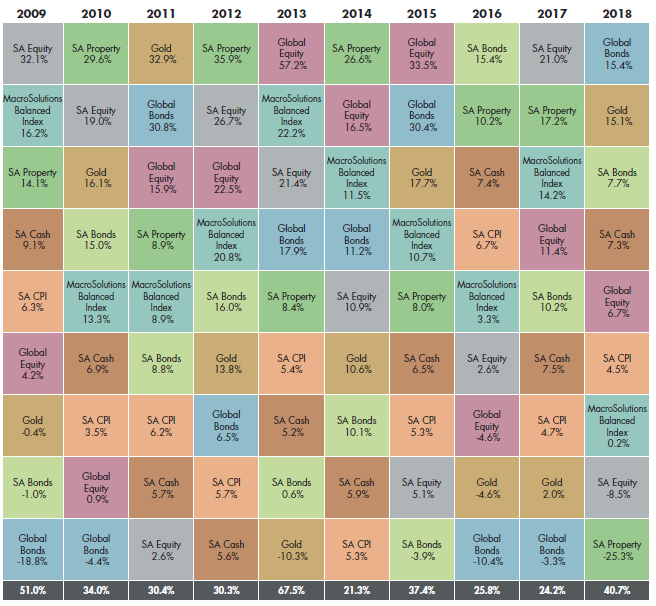 Yet while increased volatility is unsettling for investors, there are some key lessons to remember in the longer-term investment process.
In brief:
Inflation is your enemy. It is important for investors to be aware of how destructive inflation can be over time.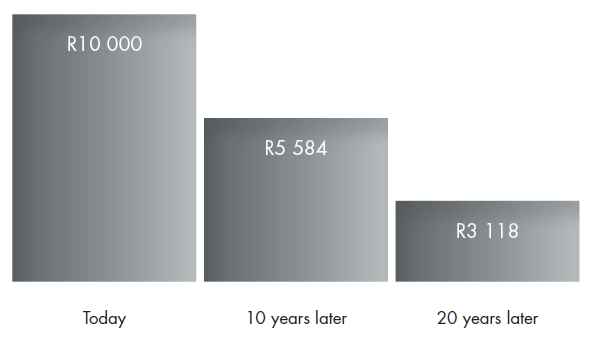 The effect of 6% inflation rate on your money.
You need equities. One needs the higher, long-term returns from equities to grow wealth. This is particularly important in a world whereby people are living for longer.
The high price of missing out. This is critical and always worth repeating (Why 'timing' the Market Can Be Very Costly…). Short-term volatility can often lead to investors selling their investments at the worst time. Almost all of the 10 best days on the JSE occurred after bad news or during uncertain times. Sitting on the fence and missing those good days can be detrimental to your returns. The only thing you can do is to have a well thought out plan – and stick to it!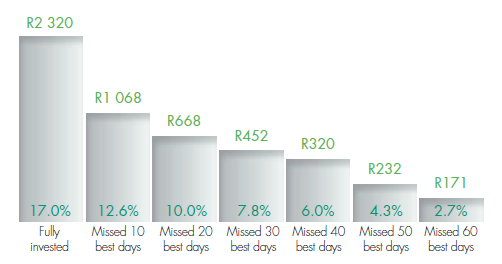 The performance of R100 invested in the JSE All Share Index (June 1997 to December 2018)
Diversification is the one 'free lunch' in investments. It pays to invest across the different asset classes, as one year's winner is not necessarily the next year's winner. (see graph above).
In short, successful investing requires vision, patience and an ability to ignore the noise around you – difficult, but definitely achievable!
Source: Old Mutual Investment Group